Overview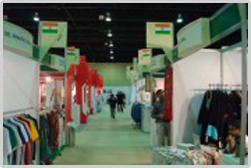 Namaste and Welcome to India, the ultimate destination for all garments importers the world over! India is today recognized as one of the best sourcing destinations for garments, textiles, accessories and finish: It provides a perfect blend of fashion, design, quality, patterns, textures, colors and finish. Manufacturers here are ready to innovate, be flexible on quantities, have hands- on approach to quality control and keep the integrity on deadlines.
Labour is skilled and economical while process are highly competitive without taking away from the quality of the final product. Amazing technological developments, superior design capabilities and companies that provide integrated logistic solutions are other highly prized support systems that the industry thrives on.
Combined with these manmade assets are the country's natural assets which play a large role in boosting the garment industry- by providing raw materials of world class quality. Here are some of India's natural leverages that the industry uses to its full advantage: India the largest producer of Jute, The second largest producer of cotton, silk and cellulosic fiber, the third largest producer of raw cotton and the fourth largest producer of synthetic fiber.
Certainly there is more- above all a friendly Government policy towards exports and excellent cultural and political connections with the importing countries has nurtured this industry and made it bigger and better each year.